Meet Dr. Spencer Gunn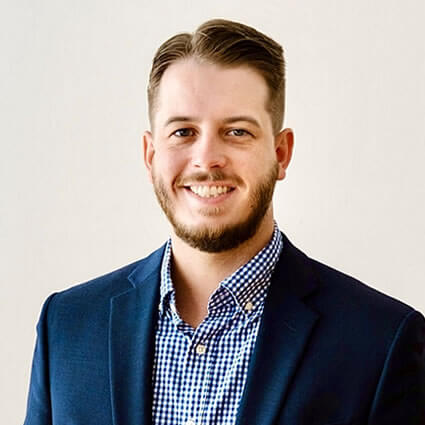 Dr. Spencer Gunn grew up in the small town of Clinton, Arkansas and got involved in sports at a young age. His passion for athletics is what interested him in how the human body functions-but that's not what drew him to chiropractic.
While a freshman in college, his mother became seriously ill. After seeing multiple specialists and undergoing numerous tests, the doctors had no answers. Her condition continued to worsen until a visit with a chiropractor found an old spinal injury responsible for causing her symptoms.
After just a few weeks of treatment, Dr. Spencer's mom started to show signs of improvement. In a few months, she was back to work and living life as before. At that moment Dr. Spencer knew he needed to become a chiropractor to give others with no hope a chance for a better life.
Dr. Spencer believes we are designed to be healthy. We have to allow the body to heal itself as it is designed to do, and chiropractic helps us do that. Helping people and giving them hope for the future are two of his biggest passions. Even if he's only treating one member, the results have an impact on the whole family.
An Education in Chiropractic
Dr. Spencer earned his doctorate at Logan University & College Chiropractic along with his wife. While at Logan, he worked in the chiropractic clinic at Scott Air Force Base in Shiloh, Illinois. Through this experience he gained a deeper appreciation for those serving in the Armed Forces.
Dr. Spencer is trained through the Trigenics Institute of Functional Neurology, which he uses in his Knee Rehabilitation work, and ART – Active Release Technique for the spine. He earned his Master's in Sports Science and Rehabilitation in April 2021. His next goal is to obtain certification as a CCSP – certified chiropractic sports physician.
Dr. Spencer is currently Level 1 certified through TPI, the Titleist Performance Institute. This functional movement system allows him to analyze a golfer's swing and screen for problems that could lead to an injury. He plans to continue his studies with TPI to obtain Level 3 Medical provider status.
EXPLORE OUR SERVICES
Outside of the Practice
When he isn't in the practice, you can find Dr. Spencer on the golf course-he learned how to play and love the sport from his father at the age of 5. Along with his wife, he loves to travel, and is a real foodie. His favorite place is the beach. His newest, most humbling passion is skiing in Vermont. Dr. Spencer's absolute favorite activity is spending time with his wife, Victoria, and their precious daughter, Chloe.
Both Dr. Victoria and Dr. Spencer want you to live your best life. Make an appointment today-you'll be happy you did.

Dr. Spencer Gunn | (203) 533-1130